---
Experience dormio now
with our popular track
— Deep Night
---
Deep Night is an ambient, hypnotic composition that helps you sink deep into the depths of your mind. Click play to experience it now:
---
---
---
If you enjoyed Deep Night and would like to experience more from Dormio, you'll enjoy Dormio Premium Sleep Tracks
---
Dormio Premium Sleep Tracks is a collection of our 12 most popular tracks on Dormio — which you can access online now. Here's what's inside:
Deep Night
Take a moment to sink deep into the depths of your mind with this ambient, hypnotic composition, to help you achieve the rest you need.
Fire
Listen to the comforting crackle of fire and imagine yourself in peaceful solitude before a large bonfire by the beach, under the night sky.
Urban Rain & Thunder
Allow this rainfall to soothe you into relaxation. Deep thunder rumbles and crackles across the sky in the background. Rain can be heard splattering on asphalt and on tree leaves, as well as dripping from a drainpipe. Enjoy!
Sleep Well Tonight by Burt Goldman
Allow Burt Goldman to gently wish you off to the best sleep you've ever had. He begins with guiding you into your subconscious where you will easily be able to block distracting thoughts.
Ocean Beach
Let the soothing sounds of gently crashing waves wash away mental clutter and take you to a private beach within your own mind.
Omharmonics Deep Rest
Unlike other existing meditation audios, Omharmonics is augmented with heartbeat synchronization and advanced ambient sound technology. That means you can listen to an Omharmonics audio and effortlessly enter and stay in the Alpha level in a matter of minutes, with little struggle, practice, experience or equipment.
Monaural Sleep Sync
by Morry Zelcovitch
Monaural Sleep Sync allows you to fall quickly and easily into a deep rest. Only use as you are about to go to sleep at night, safe in your bed. Also great for quick naps.
Easy Sleep Hypnosis by Steve G Jones
Go to sleep tonight with this hypnosis that allows an easier time falling into slumber. Hypnosis can be a very effective way to let go of insomnia and get the rest you deserve. Only listen to this hypnosis at night before bed, where you are safe and comfortable. Enjoy!
Lucid Dreams Hypnosis by Steve G Jones
Fall asleep tonight with this hypnosis that helps induce lucid dreams, a state of conscious awareness while dreaming. You may enter your dreams to create and do anything you please. Only listen to this hypnosis at night before bed, where you are safe and comfortable. Enjoy!
---
Experience Lucid Dreaming
by Rebecca Turner
Learn to have lucid dreams: vivid and tangible dreams in which you are consciously aware you're dreaming and have control to do anything you desire!
This deeply relaxing hypnosis audio will lead you into a dreamy trance state whenever you listen. Once under, you will be guided into a natural wonderland that you will come to visualize in vivid detail, engaging multiple senses.
---
Soundtrack to Slumberland
by Mark Romero
Through this musical mantra from Mark Romero, you will come to relaxing and peaceful state of being that is very conducive to falling asleep. Enjoy and good night.
Neurosonic Calibrator 1
These sounds were originally made for NLP trance induction exercises. The sounds are made using the special Holomni-sound technology. One of the most important elements of the Holomni-sound technology is a sound technique called monaural beating frequencies, these have been proven to be even more effective than binaural beating frequencies.
---
it's all inside a new program
on the mindvalley academy:
Dormio Premium Sleep Tracks
---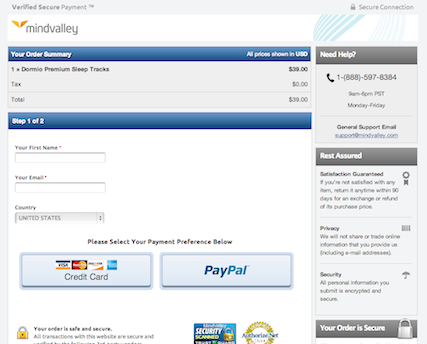 ---
Click the purchase button below, and you will see a secure checkout page where you can enter your billing details.
---
---
Once you complete your order, you will see your login details to access Dormio Premium Sleep Tracks on Mindvalley Academy. (You will also immediately receive an email with your login details and exact instructions on how to access your program.)
Simply log in to your Mindvalley Academy account, and you will see a page with a link to access your new program.
---
---
That's it! Once inside, click on the track you want to listen to, and it will immediately start playing.
---
Start falling asleep
to Dormio Premium Sleep Tracks